CapTel 840i Captioned Telephone | Hearing Loss, Hard of Hearing, Phone Captions, WiFi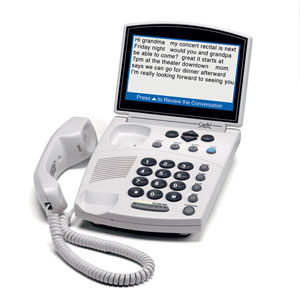 http://tinyurl.com/kl78nde
Hamilton CapTel Customer Care • 1006 12th Street • Aurora, NE 68818

Internet Protocol Captioned Telephone Service (IP CTS) is regulated and funded by the Federal
Communications Commission (FCC). Certification must be obtained through an independent third-party professional .
The independent third-party professional may be (but is not limited to) one of the following:
•
Audiologist•
Speech Pathologist•
Hearing Instrument Specialist•
Doctor or Nurse•
Vocational Rehabilitation Counselor
Social Worker / Service Provider
Medical or Health Professional
Occupational Therapist
•
<<<<<<<<<<<<<<<<<<<<<<<<<<<<<<<<<<<<<<<<<<<<<
Certificate of Hearing Loss/Order Form 012114
TO BE COMPLETED BY APPLICANT:
The following are MANDATORY for use and operation of the Hamilton CapTel phone.
I understand the Hamilton CapTel 840i requires telephone service connectivity AND high-speed Internetconnectivity (wired or WiFi) to operate.
Yes, I have high-speed Internet and telephone service connectivity where the phone will be used.
No

APPLICANT'S ACCOUNT REGISTRATION INFORMATION
Applicant's First Name*
Middle Initial
Last Name*
Address*
City*
State*
Zip*
Telephone Number*
E-mail*
(Only to be used for order confirmation)
Applicant's Signature*
Applicant authorizes the below named professional to transmit this certification and the information contained herein to Hamilton CapTel.
TO BE COMPLETED BY AN INDEPENDENT THIRD-PARTY PROFESSIONAL:
>>>>>>>>>>>>>>>>>>>>>>>>>>>>>>>>>>>>>>>>>>>>>>>>>>>>>>>>>>>
I certify that this applicant has hearing loss that necessitates the use of Captioned Telephone Service to communicate in a manner that is functionally equivalent to telephone service experienced by individuals without hearing difficulties. I further certify that I have not been offered nor provided any direct or indirect incentive (financial or otherwise) tied to this consumer's decision to use the service.
I further certify that no joint marketing arrangement exists between myself/my organization and Hamilton CapTel, and I have not made, nor do I have the opportunity to make a profit on the sale of IP CTS equipment to consumers.
Name*
Title*
Business/Agency*
Address*
City*
State*
Zip*
Telephone Number*
E-mail*
Signature*
Date*
all fields must be completed.